Considering a Micro-Unit?
The price of a micro-unit will definitely peak your interest. But, is it a good fit for you? It's important to consider the pros and cons before you make the move to a micro-unit since they come with a specific set of unique attributes. Let's dive into the pros and cons and see if you could manage:
Pro's & Con's: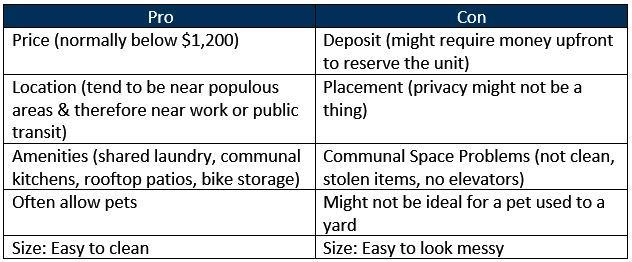 Questions to as yourself:
Can you live in such a small space?

What things do you have that would fit and what would you have to get rid of?
Are you ready to live a minimalistic lifestyle?

Can you park nearby, or can you bus/bike to work and everywhere else you need to go?

Think: the grocery store, gym, volunteer positions, etc.

Can you invite friends over and have everyone be comfortable?
Will your pet be able to handle being cooped up while you're at work?

How often can you let your pet out?

If the amenities are great, how often do you think you will use them?

Rooftop patio: That's great, but is there a dog run? What about some shelter from the rain? What about patio furniture?
Bike storage: Do you own a bike or are you planning on purchasing one, now that parking is limited or nonexistent?
Communal kitchen/hang out space: Do you lean on the extrovert side? Are you willing to share the space when you need a change of scenery? Or, are you okay with not using the space?
It's up to you to decide what you can live with or without. It's important to come up with your own priorities and answer them for every unit you look at, not just micro-units.
The next step is to see a few places. It's hard to really imagine what you can do with the space until you're in it. When you're viewing the units, have a list of questions prepared to ask the leasing agent. Some of these will be answered by the leasing agent without you even having to ask, others you will need to be upfront about.
Questions to ask the Leasing Agent:
What kitchen supplies does it have/can I bring in?

Sometimes they will have a hotplate for you, other times you might only have a microwave.
Is there extra storage anywhere in the building?

Are there options like a lofted bed? Are there any units that have a different layout or in-unit laundry?
Are different units priced differently? If so, why?
Who would be on-site? How do I submit repair requests?
How do I pay:

Rent?
Damage deposit?
When are these things due?

What are their requirements?

Credit score?
Rent to income ratio? (they often have Multifamily Tax Exemption or MFTE or 2x the rent)
Accept cosigners?
How do you apply?
Think you could do it? What are some of the things you're willing to sacrifice living in less than 400 sq. ft? Tell us in the comments section!