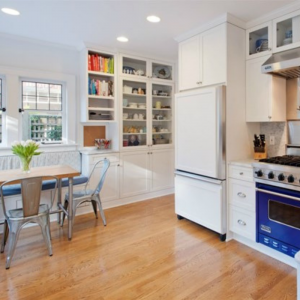 Market your Rental Property like a Pro
So, you've decided to rent out your home! Congratulations on this big next step in your financial plan! Owning a rental property can be a rewarding experience; a fulfilling way to earn a little passive income while providing shelter for someone, while hopefully watching your property's value appreciate.
So how best to end that vacancy and get a tenant in your home with a contract signed?
Prepare the Property
Set your property up for success, both for marketing and for when the tenants live in the unit. It is important to follow local codes and ordinances to prevent future issues and liability.
Here's a list of things to check on:
Smoke Alarms in common areas and near/in sleeping rooms.
Carbon Monoxide detectors on every floor.
Clean the interior, including carpets.
If you have pets, fumigate and clean the carpets with a pet enzyme.
Wash windows.
Make sure all doors and windows lock properly.
Check that all appliances are working properly.

An extra step is to provide the user manuals for all appliances.
Another is to record all the makes and models of appliances to have on hand if/when maintenance is required.

Service the furnace/heat system.
Freshen up the Paint
Clean up the yard
It's going to be much easier to require tenants to maintain a property that was properly maintained when they took possession.
If you plan to rent your home furnished, make a thorough and detailed list of everything in the home. Go as far as saying "2 grey spatulas, 1 black spatula, 2 silver serving spoons" to make sure you have everything back when you return. It also makes it easy for the tenants to replace anything that gets broken.  (Note- Unless you're going to make your home primarily available as short term rental, having it furnished will make it harder to rent, not easier.)
Marketing Your Property
You've prepared the house or unit for new people to move in, now it's time to tell them about it.
Create a thorough description of the house and the amenities. Focus on the property and local area, do not focus on the type of people you want to attract.
Be fully aware of how to comply with all pertinent fair housing requirements.
Things to include on your listing:
Monthly Price (Do your market research. Be realistic.  Avoiding vacancy will benefit you more than hoping to get lucky and achieve an above-market price.)
# of bed & baths
Square Footage of the house and the yard
Your preferred length of the contract (typically 12+ months)
What upfront costs are required.
If pets are or aren't allowed.

If they are allowed, how much is that deposit for pet damage?
Will you charge a pet rent?

Any utilities that are included in the rent

For full transparency explain what utilities the tenants will be paying
Don't forget landscaping responsibilities

Local things

Where's the nearest grocery store? What's the nightlife and commute like? What school district is the home in?
What's the walk score?
Again, don't focus on the people in the neighborhood, focus on the places.
Photos
Take great photos of your property, inside and outside, to attract prospective tenants. There are loads of quick tutorials on YouTube on how to take great Real Estate Photos.
Make sure to show off the space. Use enough light to show off all the details in the room, especially if you plan to leave your home furnished. Take photos from different angles to best capture everything the unit has to offer. If one room leads to another, show off that layout. Make the prospective tenants feel like they're walking around the unit with you.
A note on that:  Put your photos in order of how they will happen at a tour, or in an order that follows these basics:
Front Exterior
Living Spaces (Living Room, Dining Room, Kitchen)
Bedrooms
Bathrooms
Back Exterior
Try to make the order of photos orient the viewer, as opposed to disorient, as they first see your home online.
Photos and price are the first things to shake up when re-strategizing if you notice you're not getting enough traction.
Hire a Professional
All of the above topics deserve more space than a blog allows.  If you're going to lease and manage your own properties, read up on it.  Or consider hiring a professional (like us) to assist you.