With every great new tool available to the public, there's always someone out there who takes advantage of it and these days, it seems scammers area all over the place. While looking for a new place to live, or for someone to manage your property, using internet search engines and email can be difficult to notice a scammer when you first come across them. It's important to know what to look for and how to avoid it.
This linked survey is worthwhile reading for both renters and landlords.  It points out various types of scams prevalent in the rental market, and ways renters can combat them.
If you've ever been scammed, you're not alone.
It's so common that this study found about 5.2 million U.S. renters have lost money from rental fraud. About 43 percent of renters have come across a listing they suspected was fake.
What's worse is when people lose money to a scam.
This study found that 6.4 percent of the population has lost some money on fraud.
The money loss is usually a big blow to the bank account. Of those who lost money, 1 in 3 lost $1,000 or more. This is because the fraudulent listings typically ask for around one month's rent upfront. Those who lost less likely paid the fake landlord directly for the application or background check. These things feel legit to a lot of renters, especially first timers who have only heard of what to expect, and never actually seen it in action.
When handing money over for first month's rent or a deposit, renters should have a signed lease beforehand, and never wire money to anyone. Legitimate businesses will accept check or cashier's check and will understand when renters don't want to give out bank information.
But, there's good news as those scorned tend to learn their lesson, as 88 percent of those who have lost money change the way they searched for rentals.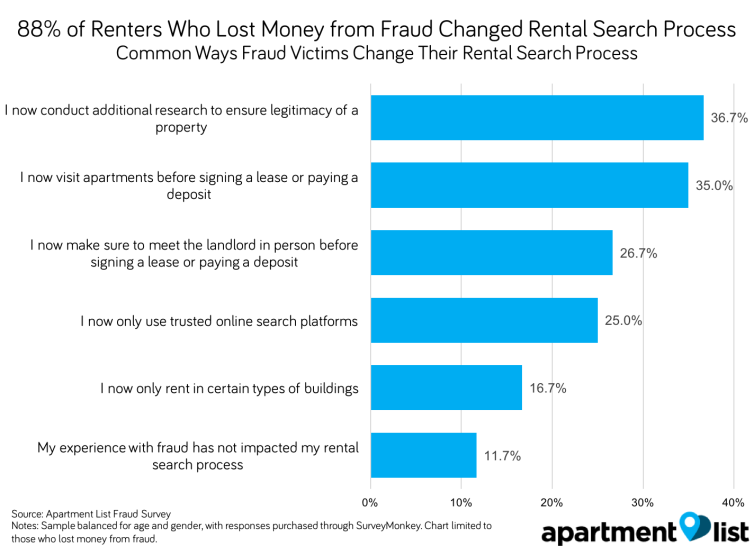 Avoid getting scammed and losing money.
To avoid getting scammed, renters can use their adjusted search process as their normal one. It's always a good idea to check other sites to see if the same listing with the same information is there. Also, renters should meet the landlord at the advertised unit before applying or giving any money for a deposit or first month's rent.
This goes for landlords, too.
As a property owner looking for a manager, it's always good to check references, and that includes listings with their name on it. If they seem to be conducting business in a professional manner that's not sketchy, it'll be obvious the listing is in good hands. Never give a property manager money before signing an agreement. With that, typical property managers won't ask to be paid until after the unit is rented.
Use the services of a reputable property management firm.
This will allow renters and landlords peace of mind that they'll know who they're dealing with. Always look for something in the ad that says "Listed by <firm name>" to know who you'd be working with for that property. You'll always see "Listed by JMW Group | Windermere Property Management" in our listings.